How we got Happy: Stories of health, hope and happiness from 20 young Kiwis who beat depression. By Jonathan Nabbs & Eve Macfarlane. Photography: Mark Hamilton.
This beautifully presented, almost magazine-style book features interviews with young people about the practices they use to maintain their happiness. The focus is on the positive, with little mention of depression apart from a standardised questionnaire for each person asking how depression made them feel, what made it worse and what made it better. The stories are told in the interviewee's own words, each one including a handwritten list of 'advice to my younger self.' It's packed with tips for maintaining wellbeing, brought to life with engaging photos on every page.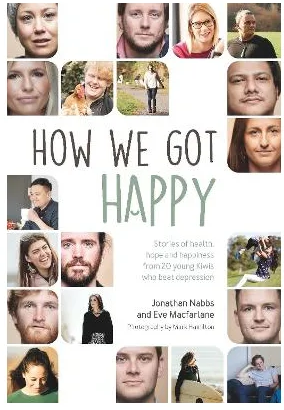 One reservation I have is that some of the young people featured are living such healthy and wellbeing-inducing lives, that their daily practices may seem way out of reach for the average person, especially for those feeling depressed. I would have liked to see more about how the individuals climbed their way out of depression, in addition to how well they are doing now.